It's officially 2015 and I'm back to the grind after a couple of weeks vacation. During that two weeks I didn't do a lot of online stuff (blogging, forum posts, etc) other than a couple retweets here and there. I wanted to take the time off and relax and spend it with family.
Now that I'm back, I figured I should reflect on 2014 look forward to what 2015 might bring.
2014 New Years Resolution
So, my 2014 resolution was to give back to the community every month via monetary donations, aiming for the $100 a month range. How did I do? Well, I didn't exactly keep that one. I managed to keep it up for 3 months via a $72 subscription to the Open Web Platform Daily Digest, a $100 donation to Mozilla, and a $100 donation to Troy Hunt. At the end of the year, I also squeezed in purchasing a yearly awesome account from the fine folks at Buffer hoping to support their awesome company.
So, overall, I kinda failed that one. However, I feel I succeeded in a modified version of my goal. If I change the wording to remove the monetary part and just leave it as giving back to the community, I feel I did much better. I feel I helped alot of folks on twitter, the Ionic Forum, Stack Overflow, GitHub, and through my blog.
Blog in Review
My blog this year was viewed about 38,000 times according to my JetPack Annual Review. I posted 32 times this year with my top post (Structure of an Ionic App) gathering over 6000 views.
In 2013, my blog was viewed a total of 3,782 times. That was before I really got into blogging and it was more of a trial thing. In 2014, when I really started to pick things up, I managed to get over 10x that volume with 38,413 views! That's crazy to me. It may not be the millions that some sites get, but what that says to me is that almost 40,000 times, someone read something I wrote. It's humbling.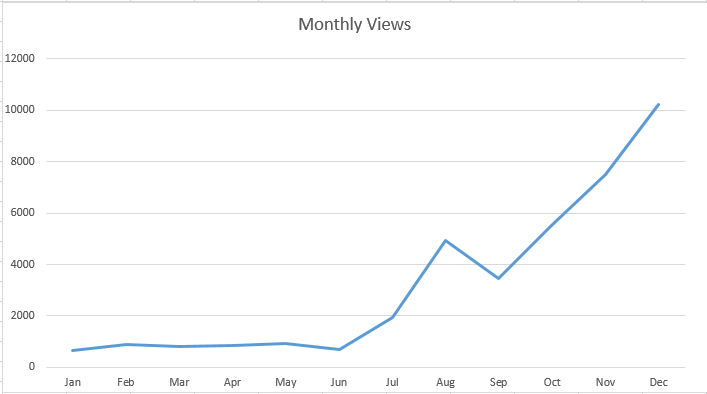 My average views per day started pretty low in January at 21 and by the end of the year was at 330. In 2013, my best overall month was 17 views per day on average. That's a huge difference.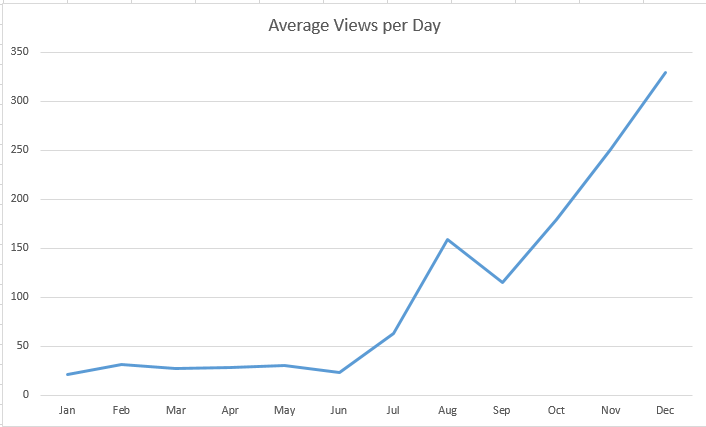 GitHub in Review
So, my GitHub contributions are pretty low relative to other people, but it is still new territory for me. It has been mostly submitting issues with only a couple of pull requests.
My biggest contributions this far by far have been helping with accessibility on webcompat.com/ where an initial accessibility review turned in a couple pull requests and assistance with identifying a few issues. Overall, it has come a HUGE way accessibility wise since I started my work with it and there is more changing coming to make it even more accessible. I hope that in a couple of months we can have it to a point of having 0 errors, 0 warnings (there will be a couple false positives), and 0 color contrast errors. The errors and warnings is pretty much already there and we're just working on the color contrast now. Exciting!
Twitter in Review
So, I finally found a "social media strategy" for twitter… well, more accurately, I stole ideas from other smart people. When I publish a new blog post, I put it in my buffer to be posted 6-8 hours later, 1 day later, 7 days later, and 14 days later. This helps to make sure as many people see it as possible.
My twitter follower count is 248 as of writing this which is fairly low, but still higher than when I started the year, which makes me happy. The weird, attention-seeking side of me wishes it were much higher…. but I think most people feel that at one point or another.
Stack Overflow in Review
So, I haven't been super active on Stack Overflow and when I do answer questions it's mostly about the Ionic Framework. This is mostly just because I only have so much time in a day and the Ionic Framework has been a huge focus for me this past year. In my Stack Ovreflow "Career", I've posted 41 answers and fathered 569 reputation… nothing to brag about. Apparently I'm in he top 54% overall?
Ionic Forum in Review
So, I first joined the Ionic Forum at the end of July in 2014. Since then, I posted 15 topics, posted 115 times, been replied to 70 times, received 45 likes, etc. Overall, not bad. I think I helped a couple of people for sure.
2015 Goals
Overall I want to:
Blog – Blog more and continue to grow my blogging "career".
Help – Post more on Stack Overflow and the Ionic Forum
Give Back – Make more GitHub Contributions. Open more issues, more pull requests.
I'd also like to try a couple new things as far as content creation is concerned. Maybe make some videos? Craft a PDF? Maybe a book? Who knows.
Also, more Guest Posts. I recently posted Understanding Tabs In Ionic Framework on Nic Raboy's (@nraboy) blog. Overall, it was a interesting experience that I learned from and I would love to do it again. I'd also love to get more authors on my blog. (Interested? Drop me a line on twitter!)
Conclusion
Not sure how to end this one. 2014 was an interesting year and I feel I accomplished a few things I am proud of. I hope 2015 brings even more excitement.