So, I may have missed the deadline on this one, but I'll still include some stats from the last few months. Without any further ado, my quarter 3 in review.
More Big Changes
So, I included in my last quarterly update that I had big changes in my life. Well, this quarter I had more big changes as I left Conestoga College and joined Manulife Financial, also known as John Hancock in the US. With this job comes less stress, more money, and more opportunity for personal and professional growth. I'm super excited and enjoying it a lot so far.
Full Stack Toronto
This past weekend I went to a conference in Toronto called Full Stack Toronto (which was awesome) and finally got to meet the legendary and always classy Mike Hartington. Had an absolute blast with this guy and I am so glad to finally meet him. We joked around, had a few drinks (and poutine), and had some discussions about Ionic. We also had a surprise picture war.
Blog Stats
Lets get to the meaty stuff and the pretty graphs. I won't give a huge amount of explanation here, but I will say October was a really, really good month for me. Also, I will say a major milestone I recently passed was 400,000 all time views.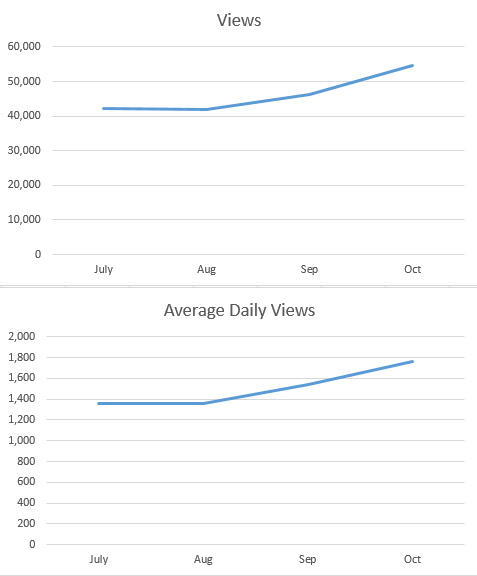 Top Performer
My 200+ Ionic Framework Resources post put everything else to shame with 28,231 views over the last 90 days up from 10,000 last quarter. Crazy.
GitHub, StackOverflow, Forums, etc
Still lacking unfortunately, though I am trying to catch up on issues and pull requests on some of my repositories… and working on a new version of angular-soap.
Twitter
Twitter growth has been awesome! Now up to 750 followers, up from 500 last quarter.
SEO
Google is being nice to me and giving me a super pretty google search result when you search for "mcgivery" or "andrew mcgivery". Thanks Google!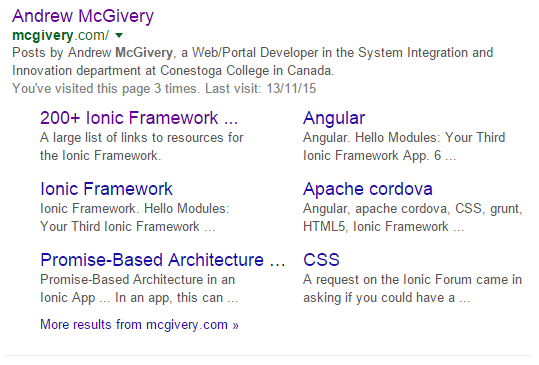 Whats Coming?
For the remainder of the year, I am hoping to start digging deeply into Ionic 2 and share some new tutorials and series with the community. I would like to continue on my Hello series for V1, but I know there is a bug demand for V2 right now so I may need to steer that way.
As always, thanks for everyone who follows me, my blog, my twitter, etc!